Rehabilitation
After a medical procedure, injury or serious illness, the first thing on your mind is your recovery. You want your health back and your life along with it. At Woodward Hills, we understand your determination. We offer uniquely personalized rehabilitation services and state-of-the-art facilities to expedite your recovery. Our well-trained and certified staff develops physical therapy programs featuring realistic day-to-day tasks to prepare you for your return to a full and busy life. But we also know that rehabilitation is hard work that demands a bit of pampering and warrants a healthy dose of peace and serenity. To that end, our residences feature well-appointed rooms, nutritious meals and graceful landscaping. Your recovery is our goal. Your continuing wellness is our concern.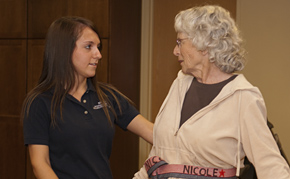 Rehabilitation services include:
The Homestead - a virtual home within our rehabilitation department, allows patients to practice skills needed in order to successfully transition back into their home environment.
State-of-the-art rehabilitation equipment
Physical, occupational, and speech therapy
Highly skilled therapists with years of post-acute care experience
Our Partner in Rehabilitation Care
Michigan Health and Rehabilitation Services and Home Rehabilitation Services of Michigan
MHRS and HRSM together with Premier Healthcare Management set a new standard for Rehabilitation in skilled nursing facilities and home care in Southeastern Michigan. We are the exclusive provider of Rehabilitation for the Premier Nursing Centers and Beaumont Home Care.
Our progressive rehabilitation team includes over 400 skilled PT, OT, and SLP professionals providing superior care in Oakland, Macomb, and Wayne counties.
Learn more about us at
www.mhrshrsm.com