Call Today: 248.644.5522
Welcome to Woodward Hills
Nursing Center
Woodward Hills is one of the area's leading nursing centers for short-term rehabilitation and living accommodations. Located in the heart of Bloomfield Hills, the center offers easy access from both the Royal Oak Beaumont and Troy Beaumont campuses, ensuring patients always receive the highest quality medical supervision and services. A respected fixture in the community, Woodward Hills is also as well known for its tranquil grounds and tasteful decor as it is for providing decades of unsurpassed care.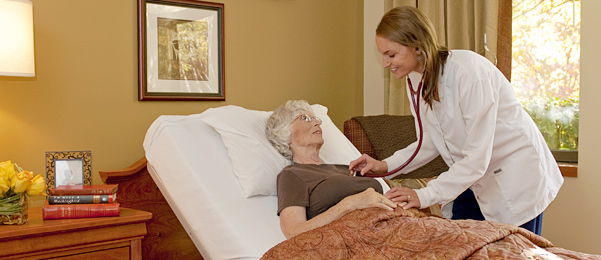 Beaumont's #1 choice for short-term rehabilitation
For Beaumont doctors and their patients, Woodward Hills Nursing Center provides unequaled continuity of care. As a Beaumont affiliate, Woodward Hills has direct access to Beaumont medical information and laboratory services, invaluable rehabilitation resources. Beaumont Physicians and Board Certified Beaumont Geriatricians, who coordinate and manage every phase of your treatment, regularly visit our facilities.
We bring that same spirit of collaboration to our patients as well. Our team of Physical Therapy, Occupational Therapy and Speech and Language Pathology specialists work with you and your family to customize a treatment plan to your unique goals. Licensed and certified caregivers are on-site 24 hours a day to monitor your progress and maintain your overall health and happiness.
A Premier place to heal
Built on the former site of the Hunter Mansion, every aspect of Woodward Hills was designed to speed your recovery. With tall trees and manicured landscape on its 14-acre grounds, natural serenity is central to your healing experience. Well-appointed private and semi-private suites, elegant dining areas, spacious lounges and garden terraces create an environment that nurtures recovery of the body and the spirit. In-house concierge service, "restaurant concept" dining and social events also provide a level of personal attention everyone should enjoy.